Release date: Thursday 20th July 2023
Blue Orchid Hospitality adds contemporary luxury residences to its collection of hotels, apartments, suites and venues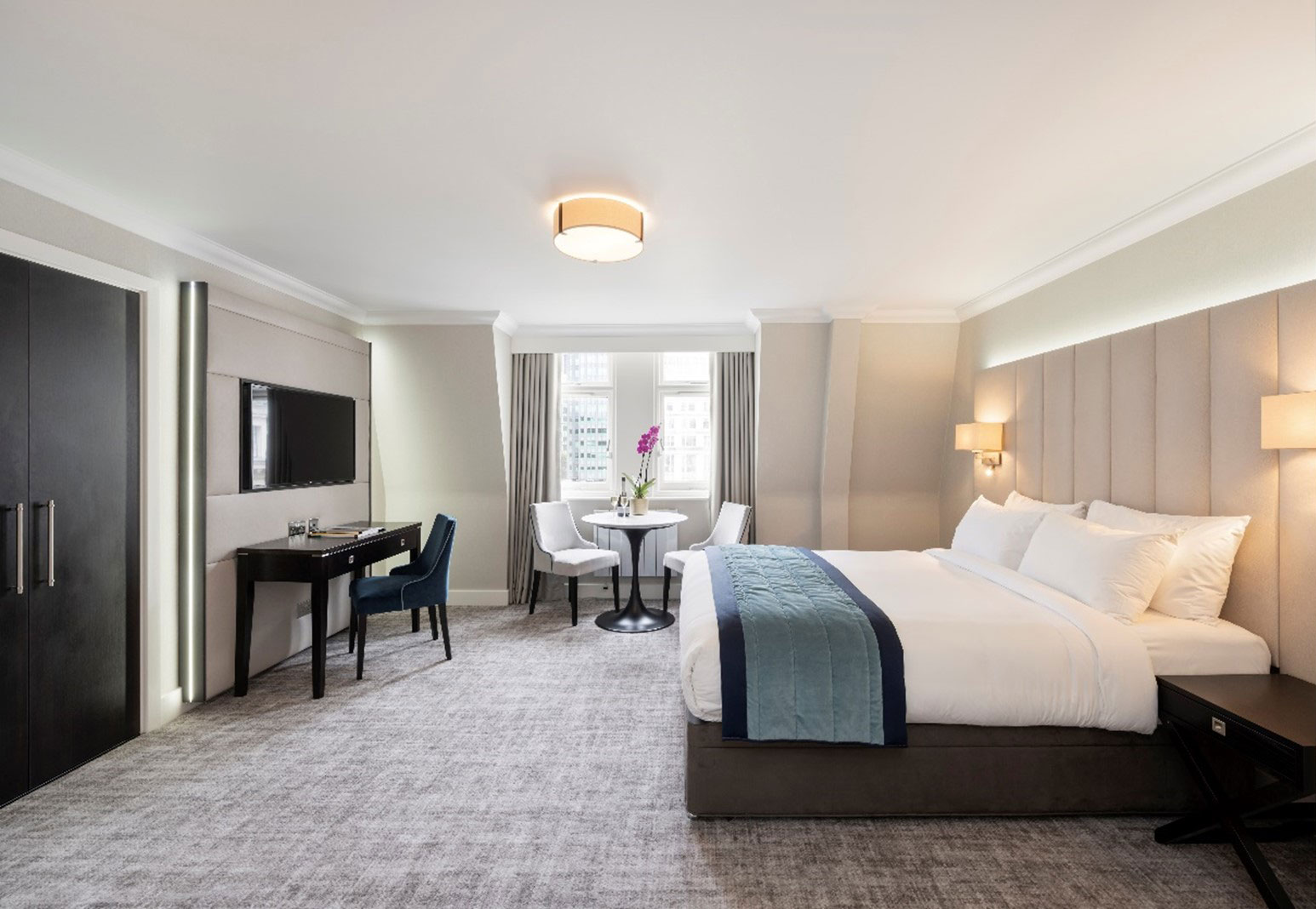 Bedroom of a Residence at Tower Residences
Blue Orchid Hospitality announced the launch of its latest addition to London's luxury accommodation offering with Tower Residences in the City of London.
Carefully designed for short or long stays and providing the very best contemporary living, guests will enjoy the independence of a private home combined with all the facilities and services the most discerning visitors expect of a 5-star hotel.
Tower Residences is a sympathetically restored elegant late Victorian building located a gemstone's throw away from the Tower of London in the heart of the City's Tower Quarter.
Residents can look forward to enjoying luxury independent living in sumptuous one and two bedroom residences for up to four people, each incorporating a fully equipped kitchen, elegant and flexible open-plan dining, lounge with a workstation and modern, stylish bathrooms – each with exceptional views over the City, the River Thames or Tower Bridge. Guests at Tower Residences have access to all the amenities and services of a 5-star hotel, with 24-hr concierge and reception services, a private butler on request and access to Blue Orchid's local restaurants, bars, gym, spa, co-working, meetings and events facilities.
Transport links are ideal with Tower Hill, Tower Gateway and Fenchurch Street stations just moments from Tower Residences' doorstep.
Tony Matharu, founder and Executive Chairman of Blue Orchid Hospitality, part of the Integrity International Group, commented: "The opening of Tower Residences is a continuation of our ambition to invest in and breathe new life into London's properties, particularly those at the end of their lives in a previous form - ensuring that London remains the best place in which to live, work, visit and invest. The team at Blue Orchid has unrivalled expertise in acquiring, developing and operating first class hospitality services and looks forward to continuing to make positive differences to central London and its world-class offering to the visitors, workers and residential communities which we support. Tower Residence is one more progressive step following our success with the multi-award winning 273 all-suites property, Tower Suites, where guests can enjoy facilities and services now ranked by visitors as some of the very best in the world."
Recognising the burgeoning trend for independent living and personal space, Tower Suites and Tower Residences are perfect for any length of stay, whether for business, leisure or events in the heart of the City.
For further information, please contact
Nadia Perrier, nadia.perrier@integrityinternationalgroup.com
Notes to Editors
Integrity International Group was founded by Tony Matharu, a former hotelier of the year and advocate for London, with a long and distinguished track record of investment in London real estate and successfully building hospitality businesses in the capital.
His full profile is available on request.
Blue Orchid Hospitality and Blue Orchid Hotels
Blue Orchid Hospitality is a private collection of luxury independent hotels, apartments, suites, residences and venues incorporating state-of-the-art meetings, conference and event facilities together with bars, gyms and spas, located in central London.
Featuring some of the best located properties in the capital, Blue Orchid Hospitality skilfully blends a wealth of history and local tradition with contemporary luxury.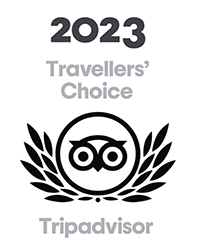 Tower Suites by Blue Orchid Hospitality Recognised as Tripadvisor® 2023 Travellers' Choice® Award Winner
Tower Suites' Outstanding Guest Reviews Earn it a Place Among Travellers' Favorites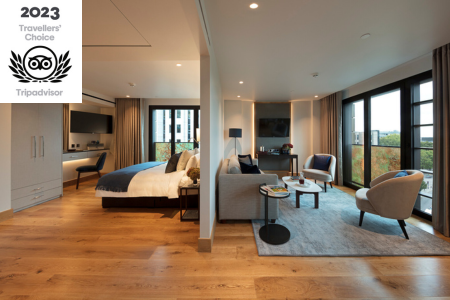 London, United Kingdom – June, 2023 – Tripadvisor has announced that Tower Suites by Blue Orchid Hospitality has been recognized as a 2023 Travellers' Choice award winner for the Travelers' Choice Award. The coveted award celebrates businesses that have consistently received great traveler reviews on Tripadvisor over the last 12 months, placing these winners among the 10% of all listings on Tripadvisor globally.
Tony Matharu, Chairman of Blue Orchid Hospitality commented: "Our associates and our team take individual and collective pride in the recognition of our efforts as a world's best hotel 2023 based on outstanding positive experiences. At Blue Orchid Hospitality we aim to demonstrate integrity, respect and courtesy to our valued guests and in all our relationships; treating our guests, associates, partners and the wider community with the warmth and friendliness of an extended family. Recognition by our visitors is the most prestigious reward we could wish for."
Despite the continuous challenges faced over the past year, Tower Suites by Blue Orchid Hospitality consistently delivered outstanding and positive experiences to its guests.
"Congratulations to the 2023 Tripadvisor Travellers' Choice winner," said John Boris, Chief Growth Officer at Tripadvisor. "The travel resurgence we've seen throughout the past year has even further heightened the competition. Earning a Travellers' Choice Award demonstrates that you have provided great experiences to those who matter most: your guests. With changing expectations, continued labour shortages, and rising costs, this is no easy feat, and I am continually impressed with the hospitality industry's resilience and ability to adapt. Cheers to another successful year!"
Guests at the Tower Suites hotel can enjoy facilities and services now ranked as some of the very best in the world, from the 273 elegant suites - each offering independent living with fully equipped kitchens and lounges together with luxurious bathrooms and sumptuous bedrooms, whilst having access to the myriad facilities and services of a luxury 5-star hotel - all in a spectacular central London location. Recognising the burgeoning trend for independent living and personal space, Tower Suites is perfect for any length of stay or purpose whether for business or leisure, with its luxury spa, choice of restaurants and bars, workspaces, lounges, state-of-the-art meeting and events centre, and the spectacular The Skyline London roof top venue.
To experience Tower Suites visit: https://www.blueorchid.com/en/hotels/gb/london/london-tower-suites
About Tripadvisor
Tripadvisor, the world's largest travel guidance platform*, helps hundreds of millions of people each month** become better travelers, from planning to booking to taking a trip. With more than 1 billion reviews and opinions of nearly 8 million businesses, travelers turn to Tripadvisor.
* Source: SimilarWeb, unique users de-duplicated monthly, March 2023
** Source: Tripadvisor internal log files
Release date: Thursday 16th Feb 2023
Tony Matharu Shortlisted for Prestigious Personality
of the Year Award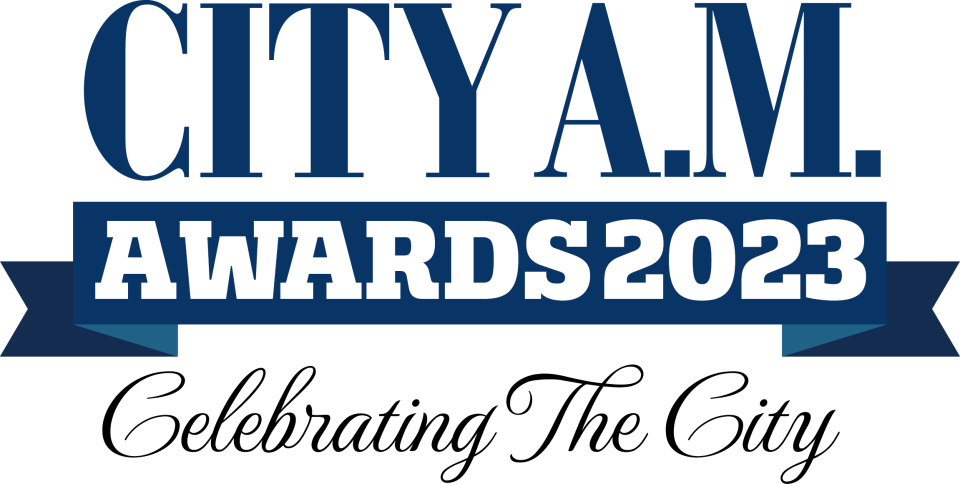 Founder and Chairman of Integrity International Group and Blue Orchid Group has today been announced as one of the final five candidates for the Personality of the Year award.
Arguably the most prestigious category, City A.M. will recognise the elite of the Square Mile, Canary Wharf and London's business community – which has shown resilience, innovation and adaptability like never before over the past year.
Editor, Andy Silvester commented: "After months of uncertainty, it's time to look forward – and say well done to those who came to the fore in the most difficult of circumstances. Now in its 12th year, the City A.M. Awards recognise and celebrate the individuals and companies considered to be making outstanding contributions to corporate success, economic growth, prosperity or innovation. The City remains a global financial leader – and it does so on the back of its people."
A former Hotelier of the Year and winner of Best Small Hotel Company, Tony Matharu is one of London's leading hoteliers, and a passionate advocate for London and its hospitality sector.
Having created the city's leading hotel group, which he sold in 2019 due to a restructuring of the business, permitting minority shareholders to retire, Tony has continued to invest in London and its talent and communities. Tony's latest hotel group, Blue Orchid, developed the award winning Tower Suites hotel together with two hotels in Westminster and is due to embark on a spectacular repurposing of the iconic 55 Broadway building into a 526-room luxury hotel; once again breathing new life into buildings at the end of their previous purpose.
Away from his investments in real estate, Tony founded Here to Help London to assist London's key workers and those most vulnerable during the COVID-19 pandemic, providing over 5,000 room nights and 30,000 meals to those most in need and finance to increase the production of PPE together with the Central London Alliance (Community Interest Company) to stimulate a post COVID-19 recovery and help central London's businesses, workers and visitors and investors.
Central London Alliance's national London Love Affair campaign achieved over 163 million impressions across the UK in its first year, restoring confidence and stimulating visits to central London, generating over £10 million in spend to London, creating approx. 400 jobs.
Tony commented: "I am humbled to have been nominated as a significant person who has positively contributed to the recovery of central London in recent unprecedented times. London has previously demonstrated its resilience and its ability to overcome challenges. Recent years have disproportionately impacted London and its position as the best place in which to live, work, visit and invest. Above all London's greatest strength is its people and the vision, innovation, creative spirit and determination so I am particularly proud to have led the Central London Alliance and its partners and members in harnessing the people and organisations, and their skills, in driving London's recovery and future."
Tony is a board member of the London Chamber of Commerce and Industry, Chairman of the Asian Business Association, Director of the Central District Alliance (Business Improvement District), Patron of the London Indian Film Festival, Patron and Vice President of the London based Oracle Cancer Trust, Vice President of the Global Sustainability Film Awards, Chairman of the Sustainable Supply Chain Management Tech Team of the Energy & Environment Alliance and is a Freeman of the Company of Entrepreneurs.
Awarded an Honorary Doctorate for his contribution to London's hospitality sector and a Fellow of ESCP Europe Business School, Tony combines his love for London with his passion for philanthropy, community engagement and sport – competing at national and representative level in hockey and cricket.
A true Londoner: born, living, working and investing in London, Tony credits the capital for his achievements and successes and continues to give back to the city he is passionate about.
Previous winners of Personality of the Year include: Anne Boden (2022), Lord Simon Wolfson (2019), Alison Brittain (2018), Martin Gilbert (2017) and Sadiq Khan, Mayor of London (2016). This year's winner will be announced at the awards ceremony held at The Guildhall Art Gallery on 2nd March, 2023.
Release date: Saturday 8th Oct 2022

TONY MATHARU, CHAIRMAN OF INTEGRITY INTERNATIONAL GROUP, AMONGST THIS YEAR'S WINNERS AT THE SIKH AWARDS 2022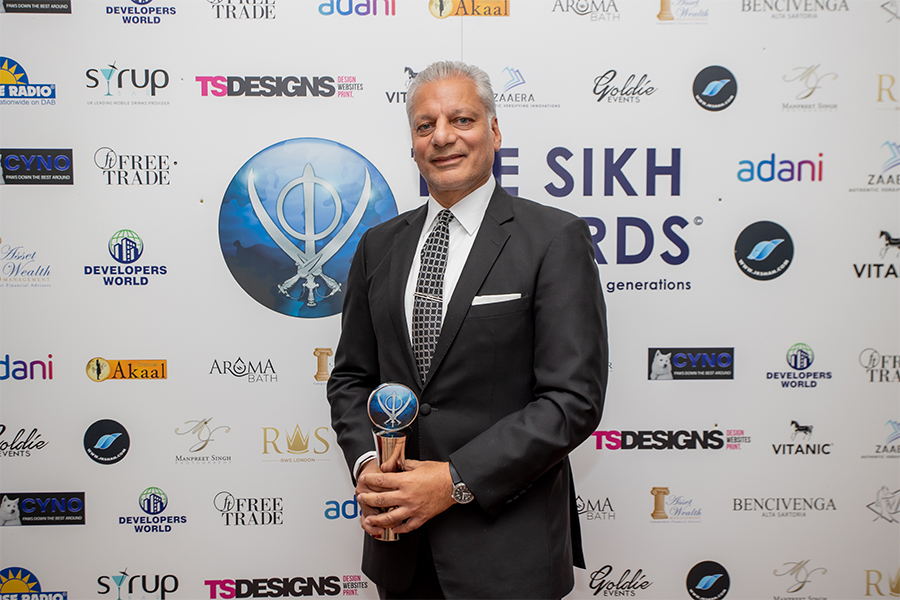 11th Sikh Awards took place in London, honoring global Sikh excellence
Saturday, 8th October 2022, London: Tony Matharu, CHAIRMAN of Integrity International Group was honored at the eleventh Sikh Awards.
The Sikh Awards recognises the pivotal contributions made by the Sikh community across a variety of fields, from business, charity, education, entertainment, professional services, selfless service and sport, with winners selected across the globe from Asia, USA, Canada, Australia, Europe, Africa and the Middle East. This year's winners included SIKHS IN BUSINESS - BUSINESS MAN OF THE YEAR - TONY MATHARU .
This international event was attended by over 400 guests of all faiths, from elite international dignitaries to public figures, community heroes, sports stars, celebrities and elite businessmen, including from India, Canada, Kenya, UK and USA.
Previously held in different cities across the globe including in Canada, Dubai, India and Kenya, the grand event took place this year in Westminster, London; a gem stone's throw away from Tony's latest five star 520-bedroom luxury hotel project.
Tony has credited his success to London and the opportunities available to those prepared to make sacrifices and work hard, even for immigrants including, but not particularly, Sikhs, and the values learnt from his mother.
At the awards ceremony, Tony recounted the words of Martin Luther King: "The ultimate measure of man is not where he stands in moments of comfort and convenience, but where he stands at times of challenge and controversy." and reflected on the challenges and obstacles encountered by Sikhs throughout the world.
Interviewed after being presented with his award, Tony repeated his mother's favourite quotation originally attributed to Mother Theresa encouraging people to do their best, whatever circumstances they are confronted with: "People are often unreasonable, irrational, and self-centred. Forgive them anyway. If you are kind, people may accuse you of selfish, ulterior motives. Be kind anyway. If you are successful, you will win some unfaithful friends and some genuine enemies. Succeed anyway. If you are honest and sincere people may deceive you. Be honest and sincere anyway. What you spend years creating, other may destroy overnight. Create anyway. If you find serenity and happiness, some may be jealous. Be happy anyway. The good you do today, will often be forgotten. Do good anyway. Give the best you have, and it will never be enough. Give your best anyway."
-ENDS-
SIKHS IN BUSINESS – BUSINESS MAN OF THE YEAR - MR TONY MATHARU
Tony founded what grew into London's leading independent hotel group, valued at over £1.5 billion and has now, through his Integrity International Group, created London's latest addition to the luxury hotel sector with his Blue Orchid Hotels group.
A recipient of an Honorary Doctorate of Letters and a Fellow of ESCP Europe Business School, Tony combines his passion for hospitality with philanthropy and community engagement. He is committed to caring for, respecting and engaging with the local community. Tony is a keen supporter of the Arts, Sport & Culture, assisting many London and global initiatives including his patronage of the London Indian Film Festival, as Patron and Vice President of Oracle Cancer Trust, as Chairman of the Asian Business Association, as founder of the Central London Alliance C.I.C., board member of the London Chamber of Commerce and Industry, Central District Alliance and the Energy and Environment Alliance, and he is actively involved as a player, board member or trustee of various sporting, charitable and cultural organisations. Tony is a Freeman of the Company of Entrepreneurs and a regular adviser and commentator on entrepreneurship, hospitality and philanthropy.
SIKHS IN BUSINESS - BUSINESS MAN OF THE YEAR - TONY MATHARU – CHAIRMAN, INTEGRITY INTERNATIONAL GROUP
For further information please contact:
Nadia Perrier
nadia@integrityinternationalgroup.com
Notes to Editors
Sikhism is ranked as the world's fifth largest religion with over 26 million followers worldwide.
About The Sikh Awards
The awards are presented to individuals or organisations who have surpassed exceptional standards in their chosen field of activity. They recognise those people who have an understanding of a community's needs and can further show examples of selfless voluntary service (sewa).
Release date: Wednesday 27 May 2020
Blue Orchid Hotels granted permission to convert historic landmark to luxury hotel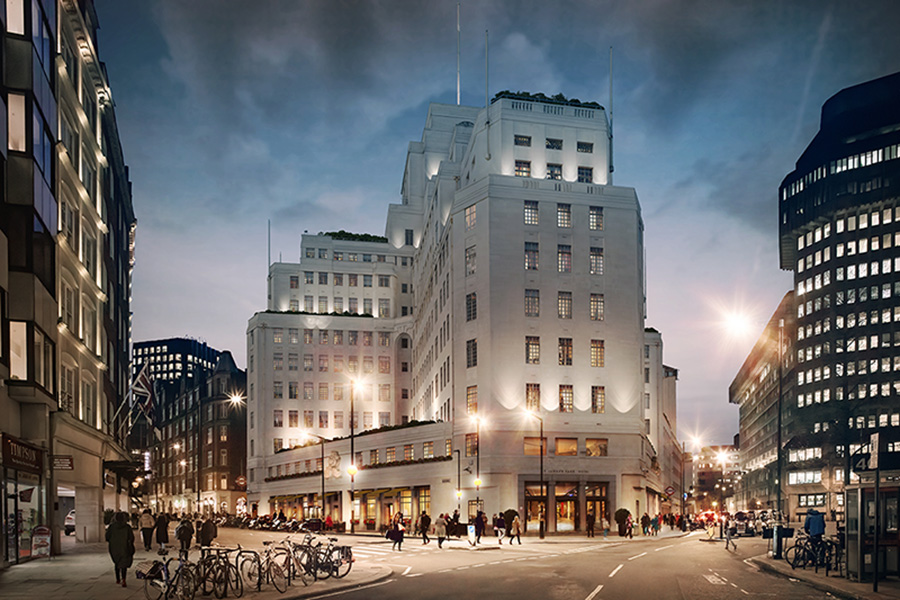 On Tuesday 26 May 2020 Westminster City Council granted planning permission for 55 Broadway to be transformed into a luxury hotel, under the ownership of Blue Orchid Hotels, part of the Integrity International Group. Blue Orchid had presented detailed heritage-led proposals to restore and change the use of the Grade I listed 55 Broadway Complex, which includes 55 Broadway, 100 Petty France and Wing Over Station, to a new hotel.
Tony Matharu, London entrepreneur and hotel-owner says, 'I am delighted that we are able to move forward with our well-prepared plans for this unique location. Having worked closely with TfL and a number of other stakeholders, I feel we have a shared vision for the future of this complex. As guardian of the heritage and historical value throughout the buildings I feel privileged to be leading this exciting project. To breathe new life into the space, create new value and to welcome everyone to enjoy this special property will be very rewarding'.
Integrity International Group's professional team have worked closely with officers and Historic England to develop proposals which seek to celebrate the building's rich history by sensitively restoring its unique features and opening up this iconic landmark for the first time through its imaginative repurposing.
The history of 55 Broadway
55 Broadway was designed by the renowned architect Charles Holden, and built in 1929 in an art-deco, early-modernist style as the headquarters of the Underground Electric Railways of London Ltd. Upon opening, it was greeted by the architectural community as a success. The Observer dubbed it 'the Cathedral of Modernity' and described it as 'the most notable building of our time'. The new building served as both offices and as a symbol for the Underground Electric Railways of London, which was subsequently taken into public ownership and became London Transport in 1933.
Due to the exceptional architectural interest of the building and its position as a milestone in 20th Century design, including its status as London's 'first skyscraper', the building received Grade I listed status in 2011 (upgraded from Grade II listing from 1970).
The building is no longer fit for many modern office occupiers and is in need of significant investment. As a result, Transport for London sold the 55 Broadway Complex in Summer 2019 and vacated the building earlier this year. The successful bidders were selected by Transport for London as part of an extensive diligence process and the new owner with his outstanding credentials and reputation, continues to illustrate his commitment as custodian of a major asset.
Notes to editors
The full plans are available online.
More information
Please contact
Nadia Perrier
Nadia.perrier@integrityinternationalgroup.com
---
02/03/2020
INTEGRITY INTERNATIONAL GROUP OFFICIALLY NAMED AS TOP HOSPITALITY COMPANY IN THE UK FOR UNDERGRADUATES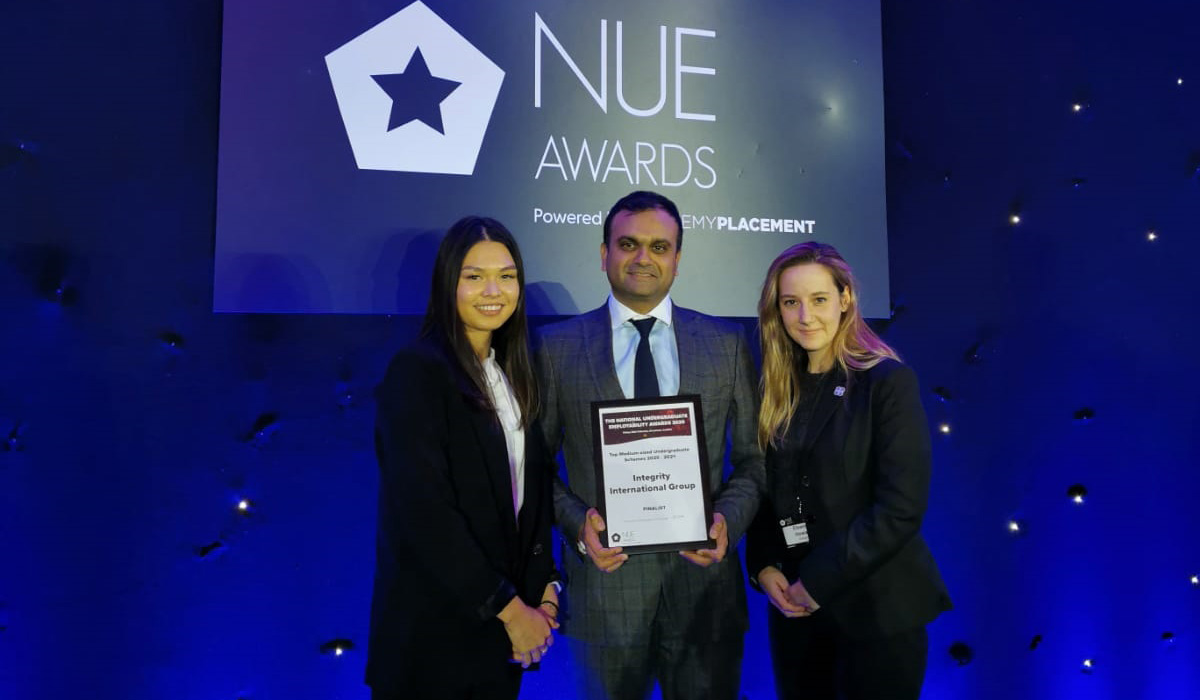 On Friday 28th February, newcomer Integrity International Group (IIG) landed straight on the podium at the National Undergraduate Employability Awards, beating global companies including British Airways, Samsung and Toyota . IIG made their mark being officially named the top medium-sized hospitality company for the 2020-2021 Undergraduate Scheme.
The award, powered by RATEMYPLACEMENT was solely based on the reviews submitted on the platform by students who have completed placements, internships, vacation schemes and insights within the 2018 – 2019 academic year.
Students commented on how valued they felt during their employment, the level of support they received and responsibility they were trusted with and the organisation's overall offering, conduct of management teams and company values.
Students notably commented on Integrity International Group's opportunities for professional growth, continuous training, positive learning environment and personal development opportunities. Many went on to commend Integrity International Group for its diversity, professionalism and family-orientated team supporting fellow colleagues professionally and personally.
Integrity International Group offers its students professional and certified training programmes, activities to boost creativity, the opportunity to attend educational workshops or talks delivered by industry professionals, weekly company emails sharing the best industry knowledge, as well as cross-department internal training from technology to sales and marketing.
Recognising the importance of and ensuring individuals' tapestry of life is richer from cultural activities and experiences outside of the work place, the students also commented on the company's CSR, volunteering and community engagement opportunities which all employees are encouraged to participate in.
One student commented: "I could not have expected a better placement experience. From day one I felt welcomed and supported throughout. I not only learnt about marketing but about the industry as a whole, they helped me step out of my comfort zone and pushed me to develop my skills and reach my potential. I overcame some fears and could not be more grateful for this experience."
Integrity International Group's student placement programme involves immediate responsibility, hands-on experience combined with on the job cross-training and development in functional areas, rewarding drive and determination. The placement offered an above London Living Wage and a central London location perfectly connected with public transport links, surrounded by myriad of restaurants, bars and entertainment facilities, together with world-renowned historic sites and vibrant nightlife.
Teddy Conjamalay, Chief People Officer commented: "Our placement programme offers students an opportunity to put all of their classroom learning into practice whilst gaining new and valuable skills and on the job practical experience. We support our students to gain knowledge, experience, understanding of a multi-faceted industry and the ability to build confidence in a productive environment.
We are extremely proud to have students on their placement year who take great pride in being part of Integrity International Group, where they are able to develop, both professionally and personally."
Several of IIG's student placements have successfully gained full-time employment with Integrity International Group themselves, with others commenting:
"I have been imparted with certain life skills that…would help me tremendously while pursuing my future studies and in my personal life."
'I received valuable first-hand experience that I can now use in finalising my degree in Tourism Management and entering the world as an experienced career seeker.'
Integrity International Group is delighted to win this prestigious award, holding a shared sense of achievement with their associated students and looks forward to welcoming further students who they believe play an integral role in delivering the company's ambition to be the top company in the UK for undergraduates.
Additional Information
This award recognises the company who has more than 250 employees and employs between 3 and 20 students on an undergraduate placement, internship, vacation scheme or insight.
65 employers qualified this year
The main perks students listed for IIG on their your work placement were:
Flexi Time
Subsidised Dining
Subsidised/Company Gym
Company Parties/Events
Continuous learning

The full list of student reviews on Integrity International Group can be found here:
https://www.ratemyplacement.co.uk/company-profile/4822/integrity-international-group/reviews
For press enquiries:
Nadia Perrier
nadia.perrier@integrityinternationalgroup.com
+44 7487 792913
Notes to Editors
About the National Undergraduate Employability Awards
Brought to you by RateMyPlacement.co.uk, the National Undergraduate Employability Awards reward and celebrate the outstanding achievements of employers, students and universities in undergraduate work experience across the UK.
The NUE Awards showcase the passion, innovation and dedication of all stakeholders who are making a difference in the industry and deserve to be recognised for their efforts.
These reviews alongside other vital statistics are placed into an algorithm, which forms the Top Medium-sized Undergraduate Schemes table.
---
Press embargoed until Monday 16th September 2019
Integrity International Group acquires 55 Broadway - an iconic London property
Integrity International Group is pleased to announce the acquisition of the landmark 55 Broadway site, the original home of London Underground.
Tony Matharu, founder and Chairman of Integrity International Group said "the purchase of 55 Broadway is a very important step for all involved and reflects our ambition to invest in and breathe new life into impressive London properties. We intend to collaborate with TfL and others to ensure that this landmark building has an exciting future in the heart of London."
Graeme Craig, Director of Commercial Development at Transport for London (TfL) said: "We are delighted to have completed a deal with Integrity International Group for the office buildings complex at 55 Broadway. The opportunity for a long single leasehold was offered through the open market to deliver best value for money. It forms part of our long-term estate management strategy to reduce our office accommodation costs and generate vital revenue to support upgrading critical transport infrastructure and our housing development programme.
"55 Broadway has played an important role in the development of London, and we are confident that this is recognised by Integrity International Group, who will invest in this historic building and breathe new life into it."
For further information, please contact
Integrity International Group
media@integrityinternationalgroup.com
www.integrityinternationalgroup.com
Tel: 02071524116
Notes to Editors
Integrity International Group was founded by Tony Matharu who has a long track record over many decades of investment in key London real estate and building successful businesses – providing opportunities and employment across the capital.
His strong and well established links with key London associations such as the London Chamber of Commerce & Industry and Historic England means that he has been at the centre of many large scale developments and understands all the intricacies of transforming heritage buildings into modern and contemporary spaces. His involvement in a wide variety of London events and organisations from the 2012 London Olympics to the Lord Mayors Parade, as well as being the chairman and board member of various organisations and charities, means he is fully engaged with London life on all levels – business, culture, sports and community.
His full profile is available on request.